The Valentine Museum
The Valentine Museum in Richmond, Virginia engages, educates and challenges a diverse audience by collecting, preserving and interpreting Richmond's 400-year history. Located in the heart of historic Richmond, the History Center is a place for residents and tourists to discover the diverse stories that tell the broader history of this important region.
A comprehensive program of exhibitions, city tours, special events, research opportunities, school programs and other public programs engage the broadest audience in an ongoing dialogue about the significance and relevance of the city's history.
The Valentine Museum serves more than 15,000 children, youth and adults each year with its educational programs, administered both at the museum and off-site.
The History Center's collection, which now tops one million objects, is comprised of photographs, documents, paintings, furniture, costumes & textiles and other materials related to Richmond's history.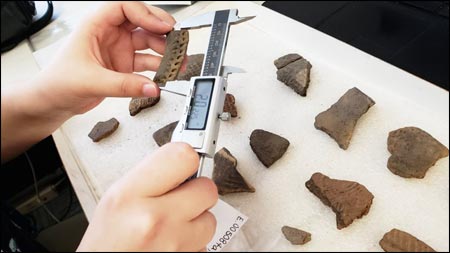 Through funding by the Kip Kephart Foundation and in memory of Bobby Chandler, the History Center is able to host paid summer interns each year to assist in research and organization of archive material.
Prior to 2005, two high school interns were hosted at the History Center each summer. Interns worked for six weeks, generally spending two weeks in each of the major departments of collections, education and development.
Paid internships are uncommon in this field and the ability to offer a stipend allows the History Center to attract very talented candidates. Each Bobby Chandler intern is required to complete 150 hours with the History Center and is paid a stipend upon completion. Students can choose the department in which they would like to work and intern schedules are flexible. The application process is highly competitive and interns are selected by the Funded Internship Committee, comprised of select History Center staff.
Due to the high quality of the Kephart Foundation's Bobby Chandler Summer Intern funding, the History Center staff members are able to accomplish much needed projects. Interns develop interactive history lectures for senior groups, inventory parts of the collection that have yet to be catalogued, assist with preparations for large events like HISTORY MAKERS and help complete research for upcoming exhibits. Their contributions are an integral part of the History Center's operations and allow the museum to do more with limited resources.
At the start of this program, most interns were from the Boys and Girls Club of Richmond. However, beginning in 2006, the Kephart Foundation widened the criteria for applicants to include other venues.
This change in intern guidelines has allowed participation by additional institutions, thus increasing the number of awardees in recent years as follows:
Past Recipients

Summer 2018 Bobby Chandler Interns:
Click name for each 2018 recipient to read Intern Spotlight articles

Summer 2017 Bobby Chandler Interns:
Julia DuBeau, Virginia Commonwealth University, Costumes and Textiles
Elizabeth Ezzelle, Richmond University in London, General Collections
Camden Taylor, Clemson University, Public Relations/Development
Megan Brown, J Sergeant Reynolds Community College, Archives
Grayson Wheeler, Virginia Commonwealth University, HR/Finance
Mariah Macon, College of William and Mary, Public Programs

Summer 2016 Bobby Chandler Interns:
Taylor Evelyn, Randolph Macon College, Visitor Services
Robert Baxter, Randolph Macon College, HR/Finance
Sara Umland, SUNY Oneta, General Collections
Anne Elizabeth Banton, James Madison University, Archives
Jessica Lynn Evans, Virginia Commonwealth University, Costumes and Textiles
Marina Hays, Fashion Institute of Technology, Costumes and Textiles

Summer 2015 Bobby Chandler Interns:
Dylan McCartney, University of Mississippi, Archives
Jamie Kim, Rutgers University, Public Relations/Development
Carley Winiesdorffer, Virginia Commonwealth University, Costumes and Textiles
Ashley Phung, Virginia Commonwealth University, HR/Finance
Fazila Kabahita, Loyala University Chicago, Public Programs

Summer 2014 Bobby Chandler Interns:
Angela Parker
Amanda Ortman
Kaitlin Jennings
Caitlin Foltz
Kelsey Cunningham

Summer 2013 Bobby Chandler Interns:
Lindsey Hale
Amy Griffin
Jody Green
Charlie Umhau
Emily Bowden
Summer 2012 Bobby Chandler Interns:
Rachel Wilkerson
Caroline Moyer
Benjamin Plache
Rakim Reid
William "Brian" Piper

Summer 2011 Bobby Chandler Interns:
Alexandra Wiles
Danielle Ashe
Glenna Barlow
Elizabeth Fuqua
William "Brian" Piper

Summer 2010 Bobby Chandler Interns:
Corine McVeigh
Leigh Donahue
Brenna McHenry
Cecily Rainey

Summer 2009 Bobby Chandler Interns:
Alison Ross
Lauren McDonald
James Gross

Summer 2008 Bobby Chandler Interns:
Jessica Sleevi
Diane Anderson
Katie Harding
Lynda Cooper

Summer 2007 Bobby Chandler Interns:
Dan Castele
Carter McIntyre
Meredith Moore
Jeannine Beckman

Summer 2006 Bobby Chandler Interns:
John Cockrell
Stephanie Johnson
Erin Kuykendall